Its great to see how Umbro have got so behind England in the World Cup. They've gone above and beyond in their support for the team – far exceeding their role as just kit supplier.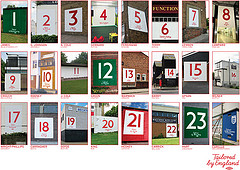 One of their more creative ventures is the creation of commemorative walls in the hometowns of the players and manager Fabio Capello. Each wall is situated on a building that was significant or has relevance to the early life/development of each England squad player and features their squad number and the slogan 'Tailored by…' followed by the town name. Its a great idea that really aims to unite the country in support for the team. How many will be graffitied by the end of the tournament though remains to be seen…
The examples shown are David James' wall in Welwyn Garden City and Rio Ferdinand's wall in Peckham.
For more details on where to find the walls check out Umbro's website