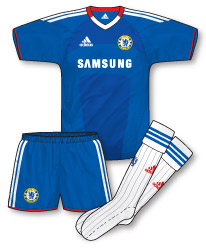 Now firmly settled into a system of three new kits every year, the new Chelsea home strip at first glance doesn't feel like much of a progression from their last. There is now a contrasting white V-neck along with a subtle shadow-like two-tone design across the front of the jersey. This pretty average kit is given a splash of interest by the liberal dose of red trim throughout, most notably on the V-neck. Its the first time since their 93-95 kit that the colour has appeared on a Chelsea strip although it was commonplace throughout the eighties.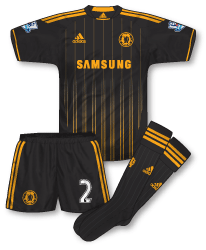 Once again adidas have launched a pair of complementary change kits in challenging and innovative colourways. The new away is black and orange with an interesting striped design across the front of the shirt that on closer inspection is made up of tiny chevrons of various intensity. As with many of adidas' Chelsea kits the badge is coloured up to match the kit.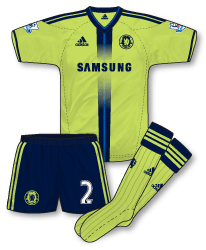 The completely unnecessary third kit reverts to a fluorescent style colour scheme comprising of 'macaw' green and navy. A faded bar of navy along with Chelsea's regular blue shade runs vertically down the shirt. As is often the case with adidas, the away kits are interesting designs, let down only due to the fact that they don't reflect the heritage of the club in any way.