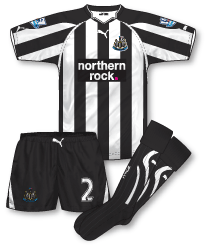 After 15 years Newcastle United have ended their association with adidas and switched to their German rivals Puma for their new outfits. Stealing the club from under adidas' noses must have put the pressure on Puma to deliver kits that were of the highest standard and anticipation was high to see what the club would wear. Puma's first set of outfits, for me, do deliver. Much to the disappointment I'm sure for some of the Toon faithful they are template driven although the home does have its own identity which should please fans in the North-East. The home includes the new neck design Puma premiered in the World Cup along with black 'shoulder pads' that arc down each sleeve. Fortunately this is the only design element that really breaks up the famous black and white stripes – although the white flashes that run from the neck down to the armpit do continue on the sides of the shirt which seems a bit of an unnecessary distraction. Personally I've grown tired of seeing Newcastle's stripes broken, disjointed and generally messed about with over the last few years. Although last year's adidas effort was better than some I would like to see the stripes presented on the shirt unadulterated next year.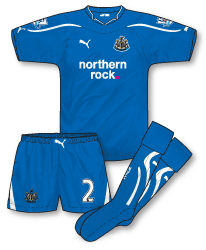 Although they are simply template designs in my opinion the away and third are the best of the bunch here. Great to see a good old traditional Newcastle away colour introduced – blue. The design is great, the shade of blue spot on and the whole kit hangs together very well. Not 100% sure about the Puma 'belt buckle' effect in the shorts waistband (also present on the home kit) but to be fair at least its something different and it is rapidly growing on me. Only downside is though with many players wearing their shirts untucked (what happened to the ruling that all shirts must be tucked in – wasn't that a yellow card offence at one time?) the branding is often lost.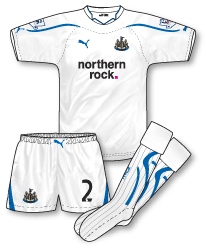 The all-white third also looks stunning and like the rest of the Puma kits fit really well. Essentially its a straightforward reversal of the away with blue now providing the trim.
A great set of kits for Newcastle – let's just see the black and white stripes rendered plainly next season!