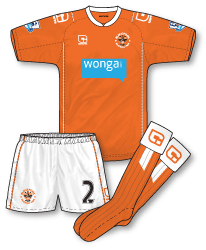 Blackpool's first ever season in the Premier League sees the side turning out in good, solid home and away outfits. Nothing stunning – simply practical, sturdy kits that do the job. To be honest the move on from last season's strips (which incidentally at the time were marketed as 2009-11 outfits) is very slight and I'm guessing the club decided to refresh the design when new sponsors wonga.com were announced, but didn't want to reinvent the kit for this milestone season. The home shirt is of course the traditional tangerine with a neat white neck and large Carbrini logos on each sleeve. Discrete flashes of white are disguised inbetween slight flaps of fabric on each shoulder and down the front of the shirt. A similar trim continues on the shorts.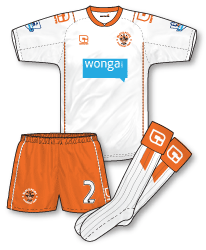 The away kit is simply a reversal of the home (a strategy I applaud!) allowing for mix and match outfits of all tangerine or all white when necessary.
Given the lack of sides that wear orange or yellow in the top flight is a third kit really necessary? Still, everyone else is doing it so why shouldn't Blackpool? For me the two tone blue striped kit is the pick of the bunch. The shades work well together and the tangerine trim on the shorts and socks really sets off the whole design.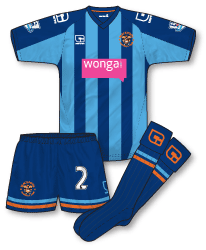 My only criticism relates to the lack of equivalent tangerine trim on the shirt which gives the whole kit a slightly unbalanced colour scheme. Perhaps the presence of the wonga.com logo in a very bold but unfamiliar and un-corporate pink was deemed to have clashed with any additional tangerine. It may have been a better solution to switch the wonga logo to Blackpool's traditional colour. Interestingly, also from a corporate branding consistency point of view, the Carbrini logo appears in different colours on the shirt, short and socks. Odd when you consider its sits on navy blue in all three occasions.