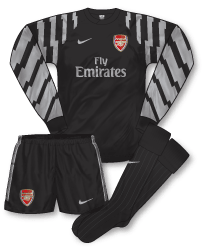 Never shy to mix it up when it comes to goalie kits, this season has seen Arsenal sport four different colourways of the standard Nike zig-zag goalkeeping template introduced in 2010.
According to their website the standard home goalie kit is grey with black sleeves/trim. This is also the kit that is being marketed as a replica. However, out of data from 35 league and cup games this season (including the 2nd leg of the Carling Cup semi-final against Ipswich) the grey kit has only been worn 6 times – 5 at home and 1 away. A reversed version in black with grey trim (although this kit doesn't feature contrasting sleeves) has been worn 6 times – 2 at home and 4 away.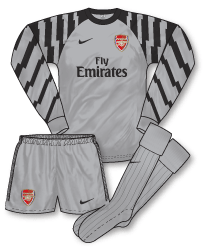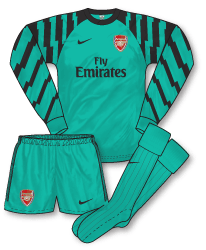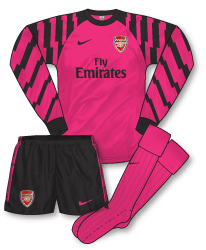 Then to make matters really interesting a more colourful set of goalkeeper kits have also been worn by Arsenal this season: a rather fetching jade interpretation, worn an incredible 19 times – 11 times away and 8 at home and finally last but not least a dazzling pink kit (with black shorts), only worn 4 times, 2 at home and 2 away.
So what's going on at Arsenal? I've looked through the facts and can't seem to see any pattern (eg cup games, away games, Europe etc) behind the choice of kit. Why hasn't the jade kit been sold as the club's primary goalkeeper kit this season when it is by far and away the most commonly worn strip? Do they select sombre colours or bright colours depending on the style of play of the opposition? Is it down to the individual keeper? And more to the point, do they really need four goalkeeper kits?!
Knowing the attention the Gunners put into their kits I find it hard to believe that there's a complete lack of logic and consistency behind these goalkeeping strip decisions. There must be a reason behind the selections. Any theories?