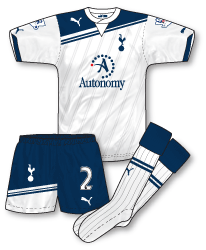 As usual Spurs launched three new kits at the start of the season – their fifth set of Puma designs. Last season's home strip ruffled a few feathers and this year's has done the same. Again Puma have ignored the pure lilywhite shirt design preferred by fans and have instead included a prominent navy panel across the shoulders in a style slightly reminiscent of Admiral's famous England outfits of the early 1980s. The Puma logo is placed high and reversed out of the navy on the right shoulder with the Spurs badge further down. A wrapover neck with a small V inset forms the colour and the main panel of the shirt is adorned with a subtle diagonal shadow stripe. The shorts mirror the shirt design and include a large white panel on the bottom of the right leg. There's a new sponsor at White Hart Lane this season – well, tell a lie, there's actually two. Software company Autonomy will appear on Spurs' shirts for league games with financial firm Investec worn for cup matches. The deal to split the sponsors in this way is a first for the Premier League (I believe) and was the brainchild of Spurs' chairman Daniel Levy. Investec's cup shirts have been very popular and have sold out in the club shop.
The design has grown on me to be fair since its launch – I still would much rather see the club in a pure white shirt and I'm really against giving secondary colours too much prominence on jerseys. Still, its something different and will no doubt lead to a very warm reception for the much plainer shirt I'm sure Puma will introduce at the Lane for 11-12.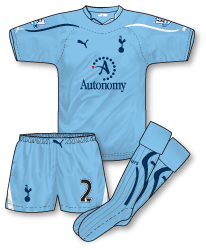 Away from home Puma have opted for light blue this season. Its a different design to the home shirt and instead is one of this year's standard Puma templates as premiered in the World Cup and also worn in the Premier League by Newcastle. However for this strip Puma have gone for alternate blue and white flashes on each sleeve and trim on the collar. The shorts however retain the white trim and include the 'interesting' Puma logo on the waistband.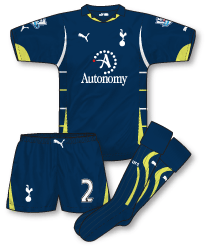 The club's third shirt is in navy blue and again is formed from another standard Puma template that was launched in South Africa. For me this is the least successful kit of the bunch.There's just too much going on and the combination of white and fluorescent yellow gives the jersey a cluttered approach. The shorts and socks however simply follow the design of the away pairs.