I'm staying in the early 90s era for the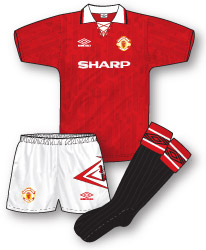 next Hall of Fame entry and prompted by the club's extraordinary 8-2 drubbing of Arsenal yesterday I've gone for a Manchester United classic – the 1992-94 home kit.
Difficult as it may seem to younger football fans the early 90s saw a United side without a league title for 25 years and despite a run of high profile managers and players the league had alluded them. Something had to change to inspire the side to their holy grail, who'd have thought that it would be a new kit supplier!
After over a decade with adidas the club switched to Umbro for their new kit that they would wear in the first ever Premier League season. The early 90s was a golden era for Umbro and they approached all of their designs with confidence and flair. For the first time many of their strips were influenced by outfits from bygone years and their first strip for Man Utd (one of the company's local sides of course) followed suite with an old-fashioned collar that even featured a lace-up neck. Good in theory but by the end of the season several players had taken to removing the laces for matches – still, nevertheless it looked great.
The kit was much more than just a retro collar though. The fabric was emblazoned with a shadow/jacquard pattern comprising of a geometric MUFC motif. A similar design was incorporated into one side of the shorts. The baggy jersey and of course the recently back in fashion long shorts, teamed up to create a truly iconic outfit topped off with the logo of long-term shirt sponsors, Sharp.
As can often be seen in football kit history, a change in kit supplier can coincide with a dramatic change in fortunes. This phenomena can be illustrated no better than with this Umbro strip. United went on to win the Premier League crown in both of the seasons the kit saw active duty as well as clinching the double in its second year of use.
Worn by: Ryan Giggs, Eric Cantona, Lee Sharp, Brian McClair

Worn in: The 4-0 thrashing of Chelsea in the 93-94 FA Cup final that sealed the club's first ever double.
Buy this shirt now from Vintage Football Shirts