I bet you thought, as I did until recently, that football kit sponsorship in the UK started with shirts? Think again.
With more and more footage and photos of 70s games appearing online and on TV its interesting to see how many teams featured sponsorship logos on their tracksuits and track tops, worn as the sides came on to the pitch and warmed up. What's also curious is the fact that this footage was quite happily shown on TV (normally as the commentator ran through the teams) with the additional logos clearly visible!
It seems that as clubs fought with the Football League in the late 70s for the right to wear sponsored shirts, they spotted the loophole that allowed them to feature additional logos on their warm up kit. Incredibly this got more coverage on TV than when sponsored shirts were finally allowed a year or so later due to the FA/TV ban on shirt sponsors.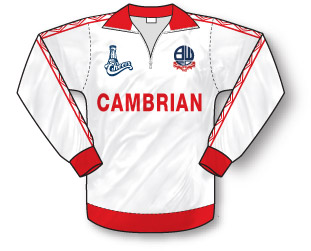 One of the most memorable I spotted belonged to Bolton Wanderers and dates from a season or two (I believe) prior to their first shirt deal with Knight Security in 1980 and features the branding of Bolton-based company Cambrian Soft Drinks.
Its a really nice Umbro top with diamond taping and a quarter zip which allows for the CAMBRIAN name (not their official logo it is important to note) to stretch across the garment without being interrupted. What also makes it special is the additional graphical motif that appears on the right hand side and presumably covers the Umbro logo. This additional logo was a trademark of Cambrian and features a bottle with 'Cheers' text underneath in a design remarkably similar to the US sitcom of the same name. On the reverse CAMBRIAN SOFT DRINKS was spelt out in full.
Bolton also wore a yellow and black tracksuit that appeared slightly later which was branded on the reverse only with Cambrian's standard logo.
Its astonishing now to see how far the sponsors branding extended over the clothing even back then and it makes you wonder if the Football League didn't have (and continue to have) such stringent rules quite to what extent sponsors would take over the kit.

If you know of any other sponsored tracksuits/track tops please let me know and I'll try and feature them on the site.