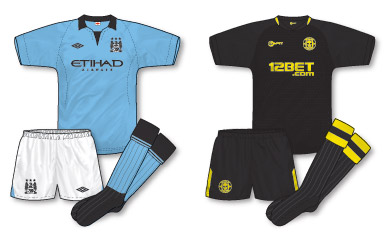 With all the fuss made about Umbro's last game as England kit supplier (or "technical sponsor" to use the correct term) its slipped under the radar somewhat that in fact today's FA Cup final could be the last time we'll see an Umbro kit used in a Wembley game. Although to be honest given the low-key build up to this year's final the match itself seems to have slipped under the radar (no doubt in part due to the news emanating from the red half of Manchester).
Yet today Manchester City will wear the last Umbro kit to be sported at the home of English football (for the time being at least, I do pray the brand will be back in the football kit mainstream soon). City today are in their home kit while their opponents, Wigan Athletic, are in their black away strip – odd given that they won the semi-final in red and in the old days superstition would normally have reared its head and perhaps influenced a team's final kit selection.
In my view football doesn't seem quite right without the FA Cup final at 3.00pm on an otherwise top-flight free Saturday afternoon and a fair smattering of Umbro kits around the league.