Well, it may not have been a vintage year for kit design but it has been a superb year for football kit books. Odd that for so many years nothing was ever written about football kit design but in recent times its being seen quite rightly as a subject worthy of analysis.
I've picked up 4 great titles in the last 12 months (is a 5th on the way Got not Got hint hint?) and I'm hoping to give you a quick review of each of them now.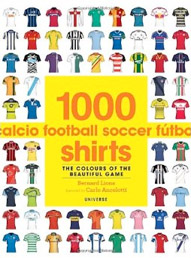 Firstly, 1000 Football Shirts – The Colors of the Beautiful Game by Bernard Lions. This is a weighty tome (originating in France) that attempts a quick snapshot of key historical shirts from around the world. Divided into clubs a large shirt is featured along with a selection of smaller illustrations of other shirts from a design or historical interest point of view. Its so difficult to pick out the most important shirts from a club's history and not leave some out and unfortunately this book falls into that trap as well. Illustrations appear a little dark in tone and after reading through several pages begin to seem quite flat (they are in Football Manager style by the way). Its interesting to see kits from lesser known European and other foreign sides but overall this is simply a book that is one to dip into rather than read cover to cover. Another downside is the missing sponsors/logos from the Arsenal and Manchester United shirts – obviously a copyright problem there. Worth picking up as a handy synopsis of shirt design but nothing really groundbreaking although it was a brave and ambitious attempt at presenting a world wide view of football jerseys. You can buy it here.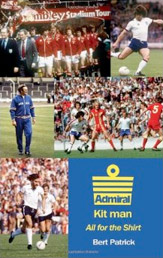 Next, Admiral:Kit Man by Bert Patrick. If you don't know who Bert Patrick is then you MUST buy this book! Basically he was the man behind the Admiral kit revolution of the mid-70s and can therefore, quite accurately, be described as the individual you created the modern day replica kit market thanks to his innovative business model that struck deals with the country's leading clubs. Its a cracking read, full of anecdotes, facts and interesting tidbits about the football world in the 1970s. We hear of how Leicester-based Admiral kitted out the England national side in a ground breaking contract, the company's creative philosophy and how Bert carved out deals, not always successfully, in football clubs across the land. Its a real insight into how one man and one company changed the football kit world forever. My only tiny criticism is that it doesn't delve deeply enough for me into the design process and describe exactly how some of the designs came about but I guess thats me coming at it with a football kit fanatic head on, not a general 1970s football anorak. Still – essential reading for anyone interested in how the replica kit market was formed and the origins of the big money kit deals that now exist in football. Plus I was delighted and very flattered to be contacted by Bert directly with a view to contributing some graphics which I was honoured to do. You will find these in the front and back inside covers of the book. Buy Admiral:Kit Man here.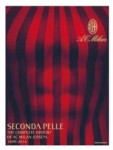 Another book coming out of Europe this year is Seconda Pelle – The Complete History of AC Milan Jerseys 1899-2014. Quite simply this book is stunning. As you will know I'm a devotee of primarily British and International kits but have never studied continental designs in depth. On researching a piece for Backpass magazine I stumbled across this title and purchased it immediately just to see how the club's kit history was presented. A4 in size, the book covers the early Milan kits with simple but effective line drawings of the shirts accompanied by photo after photo showing the shirts in action. Later years are represented by beautiful photos of the shirts themselves, both matchworn and replica (I believe). The design is crisp, logical and easy to follow with text included in both Italian and English. Whats incredibly impressive is the level of detail and accuracy the book's compilers go into. We all know European sides have always been a bit freer with their kit selections with many variants appearing in a single season. What this book illustrates so beautifully is quite how extensive this was with many seasons featuring 4,5 and in the case of 1960-61 7 different shirts being worn at some point or other. For an unashamed kit trainspotter as myself this is heaven and makes me realise the level of research and time that has gone into this superb book. Buy it here but get it while you can, its already quite rare and prices are going up!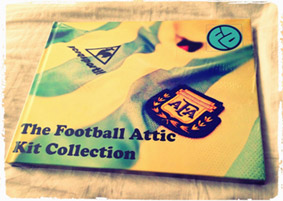 Next, a self-published title from those masters of retro football The Football Attic, The Football Attic Kit Collection. Taken from the archives of Richard Johnson the book presents the wide and varied array of shirts that he owns. Although he's a friend of mine I had no idea of the extent of Rich's collection and its clear he really loves football shirts – and knows his stuff when it comes to discussing them! Each shirt is lovingly photographed and accompanied by a personal description of each one, often with unbiased anecdotes as to why he bought it and which designs he rates. Its a real pot pourri of kits (over 200 in total) and that's its strength in my mind. Rich specialises in Argentina, Coventry and England shirts but the large landscape format book encompasses all manner of English, Scottish, European, International and non-League jerseys – each personally chosen. As a glimpse into football kits through the eyes of such a passionate devotee is a joy to behold – buy this book here – you won't regret it!!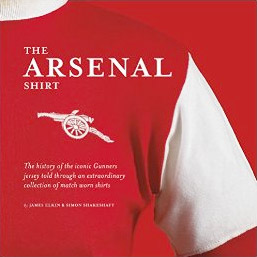 Last but by no means least, The Arsenal Shirt by Simon Shakeshaft and James Elkin. I was involved with the development of this book in its early stages and am delighted to see it finally hit the shelves and am not surprised at all to see how marvellous its turned out. Another essential book for anyone interested in kit design. Not only for the large sized and stunningly vivid photos of the shirts (primarily from Arsenal nut James Elkin's enviable collection) but also for Simon's (aka Shakey) incisive and fact filled text thats packed with insight and anecdote about the Arsenal shirt through the ages. What makes the book extra special though is that all of the shirts are actual matchworn items as donned by Arsenal legends over the years. Incredibly the collection, which also borrows from the club's museum and other notable Arsenal matchworn collectors) stretches back to the 1927 FA Cup Final. Every major final and tournament is covered amongst the huge coffee table book (and it is in fact about the size of a coffee table!) Its a fantastic piece of work and knowing Shakey and James I fully appreciate how much care and love they've put it in to getting this book right – they've done a sterling job. There's just the right mix of kit detail and historical football context (an angle so many other kit books fall down on) and finally the origins of the club's famous white sleeves and the late 60s switch to simple red shirts are finally explained thanks to interviews with players and other key personnel and historians. No Arsenal shirt aspect is left uncovered here and its a book that will delight for years. I was lucky enough to receive a subscriber's edition which features the 1971 FA Cup final away shirt on the cover, regular editions feature that year's home shirt. Buy it immediately here.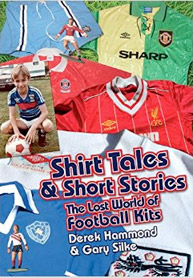 STOP THE PRESS!! Unbelievably, no less than 10 minutes after I started writing this piece this morning the doorbell rang. A courier handed over a book shaped parcel to me. Don't remember ordering a book I thought. Opening the package I was greeted by Shirt Tales & Short Stories – The Lost World of Football Kits by Derek Hammond & Gary Silke. The very Got Not Got title I referred to in the second paragaph!! What an incredible coincidence, can't believe it! Thanks chaps – I haven't had time to digest its pages yet so will keep the review short but sweet but it looks fantastic. Nothing less than you'd expect from the Got Not Got team. The small A5 sized volume crams in photos, ads and illustrations of kits for the country's leading clubs. Double page spread per club, its vibrant and exciting in its design and looks packed with facts and opinion and gives a real flavour of football kits from the past. Home kits, away kits, rare kits, beautiful kits and ugly kits – they're all here including some I'd never seen before. There are also articles on the major kit manufacturers from the past – all presented in Derek and Gary's irreverant but loving style! Another superb read! Only thing missing are some True Colours kit illustrations!! Buy it here.
Plenty to read here for the kit fanatic. Inspiring stuff and maybe, just maybe I'll be joining them again on the bookshelves next year.
My advice? Buy 'em all!