Somewhat contradictorily given my frequent declaration of my love of multiple shirt sponsors, I can't help but think international shirts are beginning to look a bit crowded these days. I guess its due to the fact that they have never been sponsored at senior level and over the years have provided a more minimalist, cleaner alternative to the logo emblazoned shirts of domestic clubs.
First names appeared on the back of the shirts, numbers have appeared on the front of the shirts (around 1992 if memory serves) and sleeve patches promoting the relevant tournament and/or FIFA or UEFA's latest scheme have all been added to make the shirts seem much busier than they used to be. The last 10 years or so has also seen the rise of specific matchday embroidery on most (but not all) international shirts (I must make clear at this point that this term is a tad misleading as, no doubt driven by cost, the individual match details international shirts are no longer embroidered but are in fact heat applied – thanks Shakey).
Of course in the old days additional embroidery only featured on an international jersey if the side reached a major tournament, and then the same design was used for every match that was played. Years later this transformed into match specific details much to the delight of the match worn shirt collector who could now tell at a glance exactly what game a top was worn in.
Looking at the recent matches involving the UK's home nations (and also the Republic of Ireland) I thought it might be interesting to see how each side commemorated their games as curiously there are no uniform FIFA/UEFA directives that say how the matchday embroidery (lets stick with that term, its easier) should look. Surely though it is only a matter of time before this is brought in.
Please note I've tried to match typefaces as closely as I can below but the graphics are really designed to just give a general representation of how the matchday details look…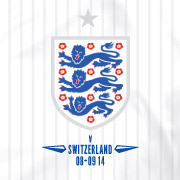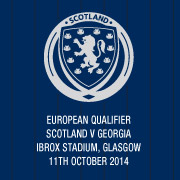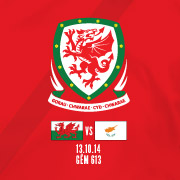 England opt for a simple but logical message, with their opponents featured below a 'v' with the date in numerals below that. What does give this basic information a bit of flair are the heraldic, geometric flourishes on either side of their opponents name. Perhaps superfluous, I must confess they do give the details some gravitas. Scotland's shirts are by far the wordiest of the home nations with a virtual essay appearing beneath the SFA badge. Firstly, the tournament appears followed by both teams, the venue and finally the date, written out in full. It does seem a bit excessive in my view and adds to the clutter of the shirt. Two lines would have looked a lot neater in my opinion. Wales go for the tried and tested (and very popular) flag route. Graphically interesting but perhaps confusing if you don't know your flags. Be honest, any idea what country is featured in the example above*? What's particularly interesting about the Welsh embroidery is the addition of the Welsh word 'Gem' beneath the numerical date. Gem translates simply as 'game' or 'fixture' and is followed by the appropriate match number providing a neat, though perhaps unnecessary on a football shirt, record of Welsh football fixture history.
Northern Ireland also take the flag route for their matchday embroidery. They keep it simple though with not even a 'V' or 'VS' between them. Instead an abbreviated date is simply placed beneath the flags. The Republic of Ireland have gone through a few changes with their matchday shirts in recent games, proving that the style of commemorating a game on a shirt graphically is very much a moveable feast and apparently determined by the individual football association rather than manufacturer. Recent matches had seen the Irish acknowledge their opponents with an ornate scroll beneath the badge. By the European Championship qualifiers against Georgia and Germany in October 2014 flags were introduced along with the date in full beneath them. However during the game against Scotland last night (14 November) this was altered again with the date reduced to numerals and the venue also added beneath.
I'm not sure how much detail is necessary with matchday embroidery, and part of me thinks the shirts would look better without it, after all its barely legible unless you actually have the shirt in your hand. Perhaps this individual match embroidery replaces the traditional 'cap' with players now given a match specific memento of their international performance in the form of a shirt. Perhaps someone could confirm this? Either way – its clear the embroidery is here to stay.
*It's Cyprus!