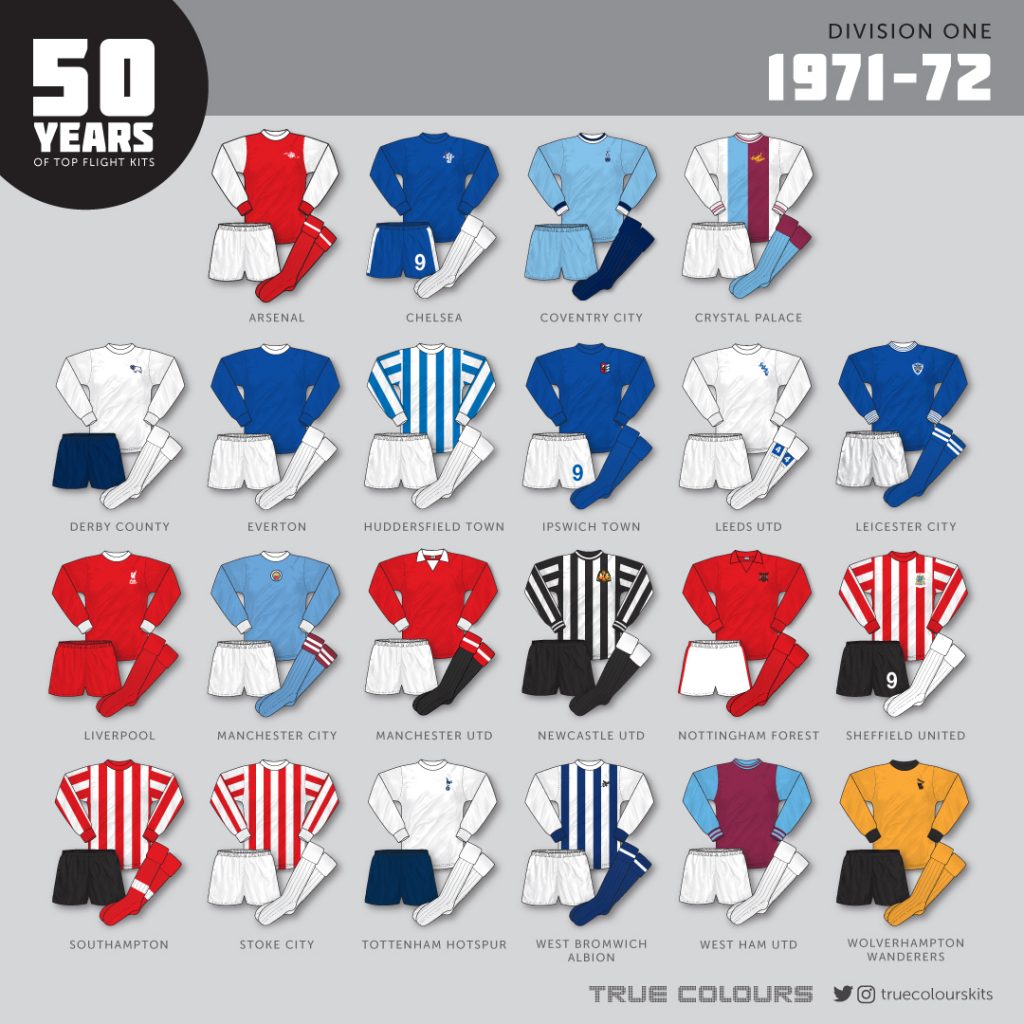 OK, so this is when things started to get interesting….
The crew neck monopolisation of football kit design began to slowly subside as a fashion that has become synonomous with 1970s football – the wing collar with inset panel – began to creep in.
Umbro had introduced the design at Aston Villa in 1969 but it took a couple of years before teams began to catch on. In this season's First Division Manchester United adopted the new style with gusto and reintroduced black socks with red turnover and white stripe – a colourway that had worn in the 50s. Nottingham Forest also switched to the wing collar long although their previous crew-necked design was also worn early on. Similarly Stoke City occasionally sported the new style of shirt as did Leeds although in both cases crew necks were also favoured throughout the season. To add to the confusion, some evidence exists to suggest that Huddersfield and Wolves also wore collared versions of their short-sleeved home kits this year. You keeping up?!
The multiple home kit theme reached to The Baseball Ground where Derby County, similar to their near neighbours Forest, started the campaign in the same trimmed crew-neck design that had sported for several years, but ended it in a clean self-coloured, crew-necked white shirt, complete with their new outlined ram team badge.
Another new trend was the inclusion of player numbers on shorts with Sheffield United, Ipswich and Chelsea early adopters of the fad. Chelsea also made the kit news with their donning of an alternative home kit when a socks clash occured. In these instances their away socks of yellow/gold pairs were now joined by a second home strip that featured yellow/gold badge and trim to ensure it blended perfectly with the socks.
A classy new design was introduced by Crystal Palace who ditched their previous candy striped affair in favour of a clean white shirt with bold claret and sky blue panels running down the front of the fabric.
Brian Clough's Derby just pipped bitter rivals Leeds United to the Division 1 title this season, with Liverpool and Manchester in 3rd and 4th place in one of the closest finishes for years. Nottingham Forest and Huddersfield were relegated to the second division.