The big change this season was that, almost overnight, inspired by the radical initiative of Admiral in the marketplace and Umbro's introduction of their logo onto apparel, virtually every team kit in the top flight now featured a manufacturers' logo.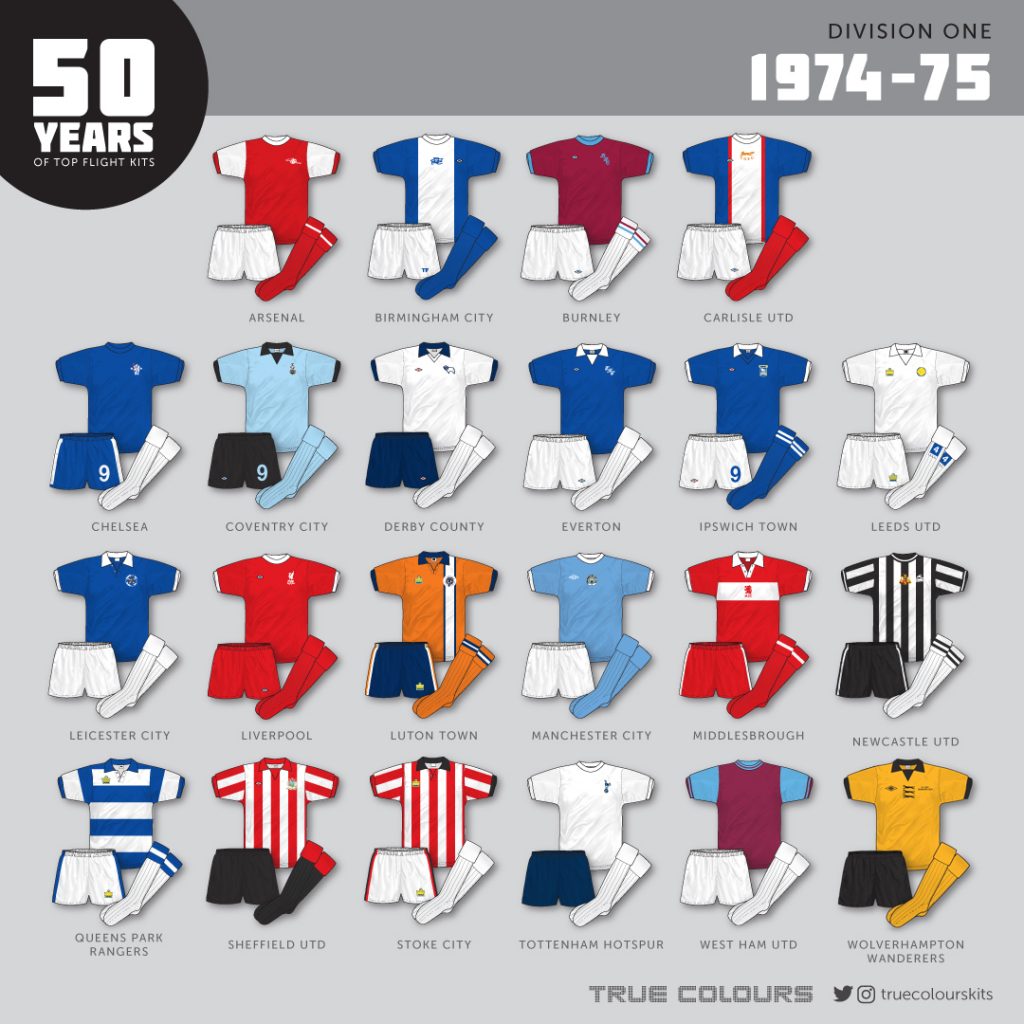 Only Arsenal, Spurs, Chelsea, West Ham, Middlesbrough and Leicester went without this extra little piece of decoration on their sacred kits. Birmingham placed theirs on the left hand side of the shirt and Coventry only featured their Umbro logo on the shorts, on the opposite leg to the norm due to their shorts number.
Division 1 was still dominated by Umbro although of course Admiral were gathering pace with four teams in the top flight (although QPR also wore Umbro this season) and Bukta made up the numbers with kits for North East sides Middlesbrough and Newcastle. It's interesting to note how misleading pre-season team shots can be when trying to ascertain exactly what strip was worn during a campaign. For example, Manchester City's pre-season photo still had them wearing the previous season's royal blue socks and the shirts were still without an Umbro diamond (the City shirts worn in the season featured the new 'double diamond' version of the Umbro logo rather than the filled in incarnation most of their roster were sporting).
You will also see that with the increase of short-sleeved shirts as opposed to long-sleeved as the 'norm' I have illustrated this season in that style.
Wing collars were now common place with with triangle inset panels, or v-necks and it's apparent that several teams still had inconsistent shirt use – Ipswich and Derby most notable for still using a selection of slightly different home jerseys.
Only three clubs (QPR, Stoke and West Ham) were now badgeless although its interesting to note the exciting introduction of Wolves new club branding on their shirt with a very modern new badge accompanied by text commemorating their 1974 League Cup win on their famous old gold tops. A relatively rare text version of the Umbro logo joined them.
The new arrivals this season were Luton Town, Carlisle United and Middlesbrough although Luton and Carlisle went straight back down after just one season along with Chelsea.
League champions were Derby County with Liverpool in second place.