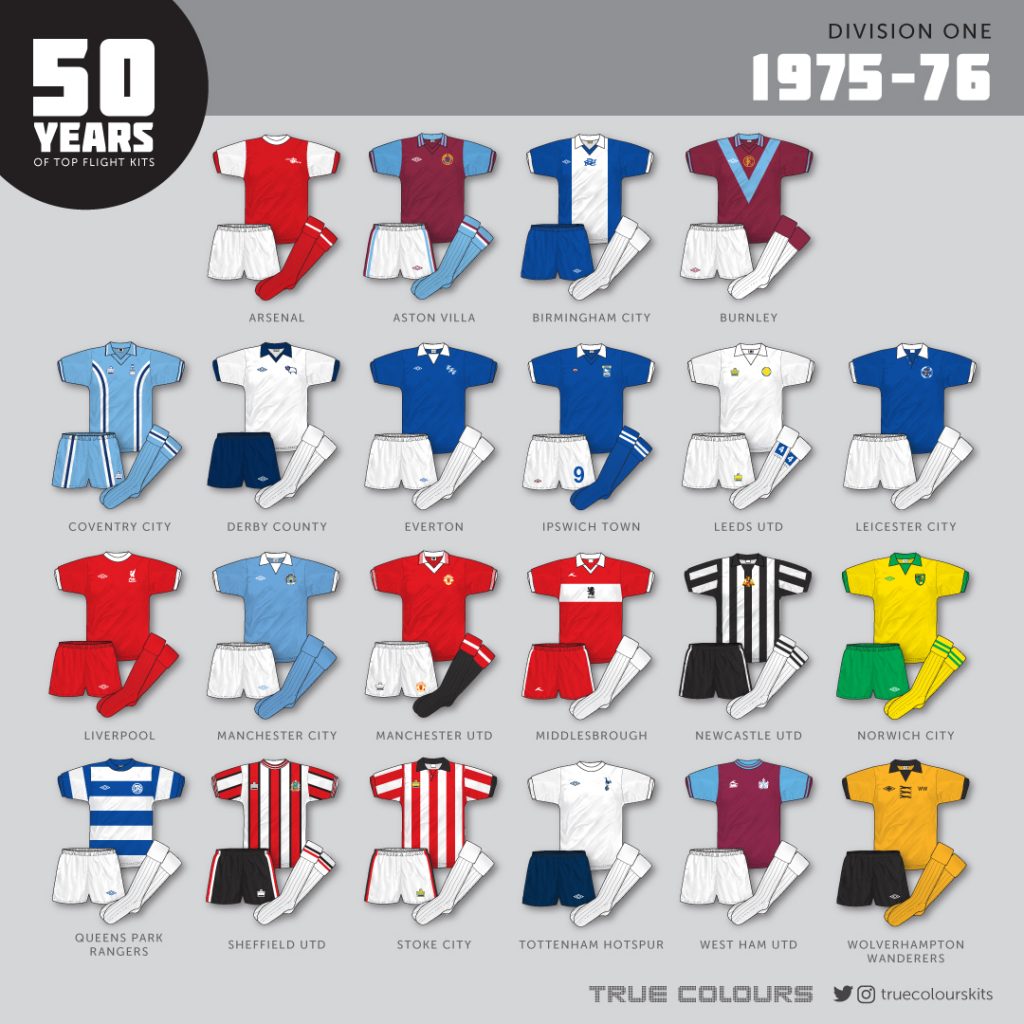 Some small but important changes cropped up this season in England's Division 1.
Umbro updated their logo to their now familiar 'double diamond' marque across all their kits…except for Ipswich Town who presumably were content to stick with their previous kit order that still featured Umbro's earlier logo. Branding was also seen on West Ham and Spurs' shirts for the first time, in West Ham's case it was in the form of the Bukta logo in their final season at the Boleyn Ground.
Admiral commenced a new deal with Sheffield Utd, kitting them out in a very contemporary striped shirt with added thinner black stripes for good measure although oddly for the time a crew neck was preferred. Manchester Utd were back in the top flight (joined now by Norwich City and Aston Villa) and were sporting Admiral although the branding was inconsistent in its appearance on the shirt. Interestingly, in a pioneering move, the club crest also appeared on the shorts.
The bar was definitely lifted however with Admiral's new partnership with Coventry City that bore fruit with the now iconic tramline kit design. The club sported the style in four different colourways over the years and the kit has become one of the 1970s' most fondly remembered.
Burnley's kit was given a radical makeover by Umbro in another of the decade's greatest kits – the famous sky blue chevron jersey. Collars were updated on Man City's. Newcastle and Middlesbrough's shirts and Wolves finally got round to removing their League Cup embroidery although their shirt still featured the 'text' version of Umbro's logo.
League champions this season were Liverpool with QPR finishing in second place (and featuring a return to Umbro and their familiar 'crew necked' shirt that must have looked a little passe by this time. Wolves, Burnley and Sheffield United ending up in the bottom three.