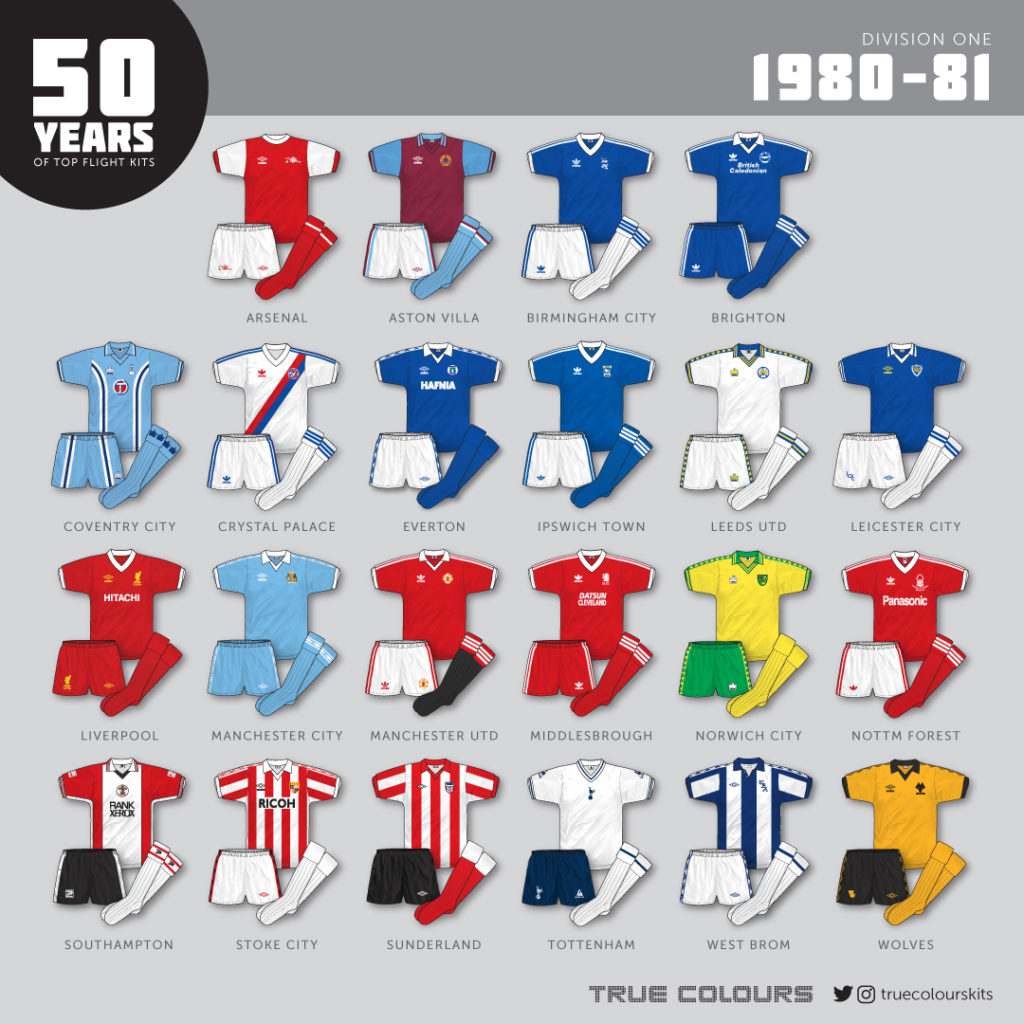 You know when you start what you think is a good idea but then life gets in the way and somehow it ends up on the back burner? Well that's the story of 50 Years of Top Flight Kits!
You may remember last year in conjunction with my 50th birthday I wanted to post a summary of the home kits of the First Division for every year since 1969. I got up to 1979–80 but am pleased to be able to carry on with the series now, starting again with 1980–81.
The biggest news this season was the increase of adidas kits in the top flight ad of course and of course the slow emergence of more shirt sponsors.
The continental influence that was to dominate early 80s kit designs also began to gather pace this series with Southampton and Spurs sporting silky new shirts, both with centrally placed badges.
The manufacturers tally this season was:
Umbro – 10
Adidas – 7
Admiral – 3
Patrick – 1
Le Coq Sportif – 1

Arsenal – No change.
Aston Villa – No change.
Birmingham City – New arrivals to Division 1, Birmingham replaced the crew neck of their previous adidas strip with a trendy v-neck.
Brighton & Hove Albion – Brighton jumped on the adidas train with a new all-blue outfit that abandoned the club's regular stripes. The side were now also sponsored by British Caledonian Airways.
Coventry City – No change in the kit (the last year of their famous tramline Admiral design) but a new arrival at Highfield Road was shirt sponsor Talbot who were to play a big part in Jimmy Hill's plans for the Sky Blues in subsequent seasons.
Crystal Palace – A brand new strip and shirt supplier in the form of adidas who updated the club's sashed design.
Everton – No change.
Ipswich Town – No change.
Leeds United – No change – apart from the addition of the club's new 'peacock' badge.
Leicester City – No change.
Liverpool – No change.
Manchester City – No change.
Manchester United – Like Crystal Palace, Manchester United replaced Admiral with adidas in a collared design that proved very popular.
Middlesbrough – No change apart from the club's first shirt sponsor Datsun Cleveland.
Norwich City – No change.
Nottingham Forest – New commemorative text and shirt sponsor Panasonic decorated this kit that otherwise remained the same as the previous version.
Southampton – A move from Admiral saw the Saints sport a Patrick outfit in a bold new red shirt with broad white vertical bar and side panels. Rank Xerox signed up as shirt sponsors.
Stoke City – No change, apart from the addition of Ricoh a shirt sponsor.
Sunderland – No change.
Tottenham Hotspur – Le Coq Sportif took over from Admiral as Spurs' technical sponsor and introduced an ultra modern strip, with central badge and minimum decoration.
West Bromwich Albion – No change.
Wolverhampton Wanderers – No change.
Ron Saunders' Aston Villa side were league champions this year in a nail-biting campaign, using only 14 players all season. Ipswich Town finished in second place. Norwich City, Leicester City and Crystal Palace were all relegated.