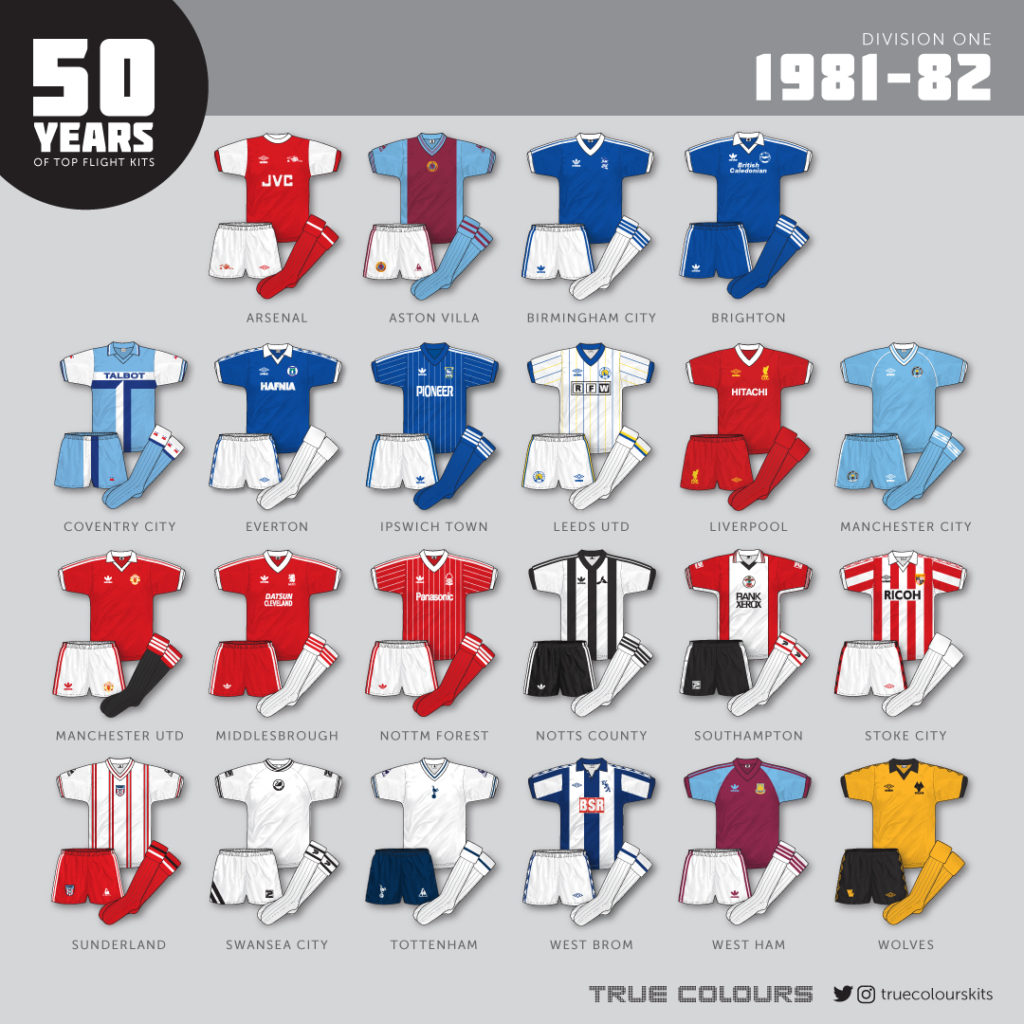 Modernism really took over this season. The taped and collared shirts were on their way out to be replaced more and more by slick, minimalist designs and a lot of relatively new fad of central placed badges. Plus of course that quintessential 80s football fashion decoration, pinstripes, made their first appearances this year. Add to that the growing number of shirt sponsors and the foundations for the sartorial direction of the decade was there to see.
Adidas' roster of clubs grew to match Umbro's and for the first time since 1973–75 there were no Admiral strips in the top flight.
The manufacturers tally this season was:
Umbro – 8
Adidas – 8
Le Coq Sportif – 3
Patrick – 2
Talbot Sports (Coventry) – 1
Arsenal – No change apart from the addition of iconic sponsor JVC. It was to be the last year of what many regard to be the definitive Arsenal kit.
Aston Villa – A switch to Le Coq Sportif bought a typically modern strip with central badge and LCS logo on each sleeve.
Birmingham City – No change.
Brighton & Hove Albion – No change.
Coventry City – In a complex state of affairs too lengthy to go into now Coventry sported this Talbot produced and sponsored strip designed to bend TV sponsorship regulations. They also wore a different kit for televised games.
Everton – No change apart from a return to white socks.
Ipswich Town – This brand new pinstriped outfit with self-coloured v-neck and cuffs is surely one of this season's best designs. Pioneer sponsored the Tractor Boys.
Leeds United – An ultra modern reinvention from returning Umbro in this great design decorated with dual coloured pinstripes. Sponsored by electrical company RF Winder – the club's first sponsor.
Liverpool – No change.
Manchester City – Raglan sleeves, trimmed v-neck and white piping replaced the double diamond frippery of City's 70s strips.
Manchester United – No change.
Middlesbrough – No change apart from a switch to white socks.
Nottingham Forest – Pinstripes now adorned Forest's kit which otherwise, in essence, was the same as the previous season's.
Notts County – New arrivals to the top flight, Notts County also wore adidas in a design the same as the previous season, apart from a new positioning of trefoil logo.
Southampton – No change.
Stoke City – No change.
Sunderland – Le Coq Sportif arrived at Roker Park bringing with them a break from tradition, reinterpreting Sunderland's stripes on what was essentially a white shirt. Red shorts and socks, somewhat controversially finished off the kit.
Swansea City – Newly promoted, the club sported a contemporary Patrick design with trendsetting wrapover crew neck and dashing asymmetrical trim on the shorts.
Tottenham Hotspur – No change.
West Bromwich Albion – No change apart from the addition of BSR as shirt sponsor.
West Ham United – Back in the top flight, the Hammers took to the field in the same classic adidas raglan-sleeved strip they had launched a season earlier.
Wolverhampton Wanderers – No change.
Liverpool regained the title this year with Ipswich Town finishing in second place for a second consecutive season. Leeds, Wolves and Middlesbrough all dropped down to Division 2.