Posted by John Devlin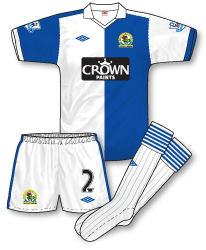 Blackburn's new home kit (the first to be 'tailored by Umbro') reverts to a more straightforward interpretation of their familiar halved shirts. Except for contrasting fabric across the top of the shoulders there's nothing to distract from one of the most iconic strips in English football – not even red trim which can often be found lurking somewhereon a Rovers kit. The shirt is accompanied by standard Umbro shorts and an interesting sock design with a multi-hooped turnover.
At first inspection the away is another fairly ordinary design in that good old Blackburn change colourway of red and black but I found the more you look at it the more classy it appears. There's a neat black trim down each sleeve (will we ever see the famous diamond trim return to Umbro kits for a last hurrah?) and curved black panels under each arm and along the side of the shirt which is formed from a similar template to that worn by the Wales national side. The shorts feature a broader side trim to marry up with the shirt panels.
11 Responses to "Blackburn Rovers 2010-11 Kits"
Leave a Reply