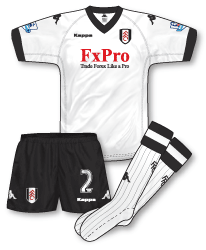 I'm not sure but I think I must be the only person who likes Fulham's kits this year. In fact, I don't just like them, I love them! I always think its hard to get Fulham's kit too wrong, the white and black, despite its workmanlike and understated demeanour, just looks great. Kappa have come in this year replacing a couple of years of Nike teamwear and have dressed Fulham in a very simple, but classic strip with V-neck and Kappa's familiar reversed seams for comfort. Fulham share Villa's sponsor, FX Pro, but their logo looks much better on Fulham's white than on the Villa outfits. Intelligent splitting of the Kappa logo as well, with the seated figures on each sleeve and just the logotype on the front of the jersey.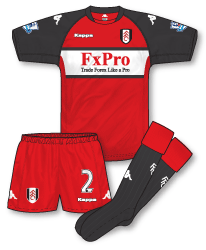 The away takes Fulham's familiar red, white and black and blends it in to a bold new design (with a dark grey replacing the black) including a white chest band and a neck design reminiscent of Kappa's shirts at the turn of the millennium. The shorts follow the same design as the home black pair so there are mix and match options (there's also a white change pair just in case as well).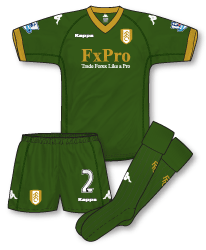 The third kit is the real deal breaker here though and I'm sure it will rub a lot of Craven Cottage's faithful up the wrong way. The dark green and gold strip really breaks with tradition and brings a completely new look to the Fulham team. Rumours are that the gold and green have been inspired by the famous corporate branding of Harrods owned (until very recently) of course by Fulham chairman Mohammed Al Fayed. The simple fact that Al Fayed no longer owns Harrods makes the choice of hues very strange. The design is identical to that of the home and I, personally, think it looks superb. Whether it is effective on the pitch is another matter (at the time of writing the kit has not actually been worn or, come to think of it, officially unveiled so a few of the details may not be 100% correct). Another big talking point is that it seems the Fulham badge will be rendered in gold and white rather than the traditional red, white and black. Its another brave design and for me is the only questionable element of the strip.