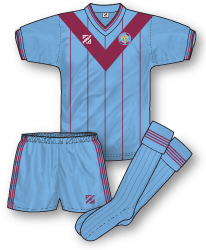 One of the unsung heroes of lower league kit design in the early-mid eighties, was undoubtedly Hobott – or, to give them their full title 'House of Barrington Official Teamster Top'. The Hobott brand originated in a small sports shop in Sheffield owned by a Mr Barrington and despite never supplying a kit in England's top flight their distinctive strips could be spotted all over Divisions 2, 3 and 4. What made Hobott unique was their somewhat over-enthusiastic kitchen-sink approach to design, shoe-horning several elements into the one strip – in theory their kits should have been disasters, but in practice many Hobott kits are, quite frankly, superb and this Scunthorpe home kit from 1982-83 is a prime example. Despite being associated with claret and blue for much of their existence Scunthorpe had been sporting either white or red shirts for 23 years before Hobott arrived and reintroduced the club's traditional colours. The only change they made to the overall colour balance was to make blue the dominant hue with claret in a supporting role in the form of a scene-stealing V that dominated the jersey. That wasn't enough decoration for the shirt though, so trendy pinstripes were also added. This fine outfit clearly inspired the Irons and they earned promotion to the old Division 3 in the single season this strip was worn.
Worn in: Impressive wins over Blackpool (4-3) and Northampton (5-1)
Worn by: Steve Cammack and possibly also cricket legend Ian Botham who played several times on a non-contract basis with Scunthorpe in the early eighties.