Posted by John Devlin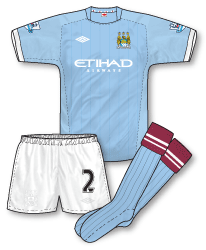 Last year's superlative and almost unbelievably classy Manchester City set of kits was always going to be a tough act to follow but Umbro have given it a good go. The 2010-11 home kit follows a design similar to this year's England away kit with its varying fabric panelling. Subtle woven pinstripes are added to the shirt and, like the England kit, a non-contrasting neck is paired with white cuffs. The devil is in the detail with Umbro though and the kit features a nice Man City scarf strip inside the back of the neck. The shorts interestingly (or perhaps not!) feature the tonal Umbro logo and Man City badge – meaning to the layman that you can barely see them. This adds to the minimalist effect of the strip but personally I'm not a fan of it. What I am a fan of though is the return to maroon sock turnovers, last seen on a City home kit back in 1972. This looks so good and so distinctive its amazing its taken kit designers almost 40 years to bring these back to the club's home kit.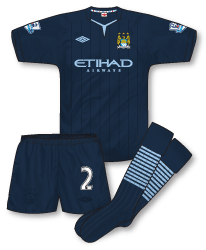 The away kit (launched in New York City of all places) is a slightly more sombre affair comprising an all navy outfit. The cut and basic template mirrors that of the home kit but with a different neck design that includes a light blue inner panel. The Umbro and Etihad logos are also light blue – a nice touch. It might have been interesting to see how the shirt looked with light blue cuffs as well.The inner-collar City scarf is again included, bringing continuity between this and the home design. The shorts again feature tonal badges, giving emphasis to the squad number. The socks incorporate a series of 11 thin light blue hoops – presumably symbolising the 11 players.
Last year's hugely popular third kit – the 70s style white with red and black diagonal stripes – is retained, but with a twist. Instead of being paired with the black shorts and socks it was worn with in 09-10, this time round it will be worn with the home kits all-white shorts and a newly designed pair of white socks that feature single red and black hoops to correspond with the jersey motif. Although the shirt is undoubtedly a classic and the new socks and pretty smart, I'd like to have seen this still worn with its earlier black shorts. Still, you can't grumble, any shirt (especially one as good as this) being retained for two seasons is something to celebrate!
Posted by John Devlin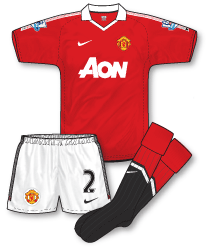 For many, the launch of a new Manchester United kit is one of the most eagerly awaited events in the football kit calendar. This season once again there are two new Nike kits to get United fans excited (with last year's black and blue affair relegated to third choice). Plus of course this season we have to get used to a new sponsor, Aon, on the Red Devils kit.
Retro influence can be seen once again as this time for the home shirt Nike look back to the early 80s adidas outfits (not the late 70s Admiral ones as so many lazy newspapers seem determined to make us think) with the giveaway clues being the old-fashioned collar and taping/trim down each sleeve.  My initial opinion was favourable but on seeing the strip in action on TV and looking at a shirt close up my enthusiasm has waned slightly. The collar seems very big (especially at the back) and very flappy and whilst I think the white trim (complete with delicate black and red markings – and devil motif) is smart the shirt does have a slightly cheap feel about it for some reason. Still its great to see plenty of white back on the United shirt rather than a simply red (no pun intened) and black ensemble.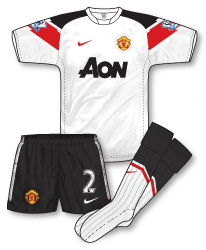 The away has ruffled a few feathers simply as it breaks from a safe and comfortable design with dynamic red and black flashes on each sleeve (zig zag flashes seem to be Nike's signature 2010-11 design element). The shorts and socks are sensibly designed to be interchanged with the home kit (a thumbs up from me). Its a brave design that I can understand would be unpopular with some of the Old Trafford faithful but for me, with its predominantly white colour scheme splashed with ample doses of red and black, screams 'Manchester United'.
Posted by John Devlin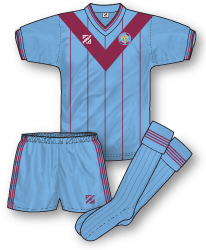 One of the unsung heroes of lower league kit design in the early-mid eighties, was undoubtedly Hobott – or, to give them their full title 'House of Barrington Official Teamster Top'. The Hobott brand originated in a small sports shop in Sheffield owned by a Mr Barrington and despite never supplying a kit in England's top flight their distinctive strips could be spotted all over Divisions 2, 3 and 4. What made Hobott unique was their somewhat over-enthusiastic kitchen-sink approach to design, shoe-horning several elements into the one strip – in theory their kits should have been disasters, but in practice many Hobott kits are, quite frankly, superb and this Scunthorpe home kit from 1982-83 is a prime example. Despite being associated with claret and blue for much of their existence Scunthorpe had been sporting either white or red shirts for 23 years before Hobott arrived and reintroduced the club's traditional colours. The only change they made to the overall colour balance was to make blue the dominant hue with claret in a supporting role in the form of a scene-stealing V that dominated the jersey. That wasn't enough decoration for the shirt though, so trendy pinstripes were also added. This fine outfit clearly inspired the Irons and they earned promotion to the old Division 3 in the single season this strip was worn.
Worn in: Impressive wins over Blackpool (4-3) and Northampton (5-1)
Worn by: Steve Cammack and possibly also cricket legend Ian Botham who played several times on a non-contract basis with Scunthorpe in the early eighties.