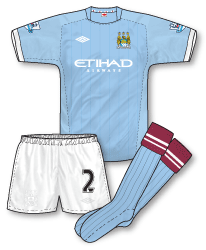 Last year's superlative and almost unbelievably classy Manchester City set of kits was always going to be a tough act to follow but Umbro have given it a good go. The 2010-11 home kit follows a design similar to this year's England away kit with its varying fabric panelling. Subtle woven pinstripes are added to the shirt and, like the England kit, a non-contrasting neck is paired with white cuffs. The devil is in the detail with Umbro though and the kit features a nice Man City scarf strip inside the back of the neck. The shorts interestingly (or perhaps not!) feature the tonal Umbro logo and Man City badge – meaning to the layman that you can barely see them. This adds to the minimalist effect of the strip but personally I'm not a fan of it. What I am a fan of though is the return to maroon sock turnovers, last seen on a City home kit back in 1972. This looks so good and so distinctive its amazing its taken kit designers almost 40 years to bring these back to the club's home kit.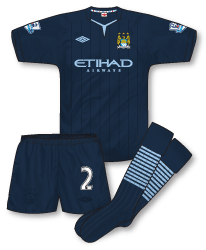 The away kit (launched in New York City of all places) is a slightly more sombre affair comprising an all navy outfit. The cut and basic template mirrors that of the home kit but with a different neck design that includes a light blue inner panel. The Umbro and Etihad logos are also light blue – a nice touch. It might have been interesting to see how the shirt looked with light blue cuffs as well.The inner-collar City scarf is again included, bringing continuity between this and the home design. The shorts again feature tonal badges, giving emphasis to the squad number. The socks incorporate a series of 11 thin light blue hoops – presumably symbolising the 11 players.
Last year's hugely popular third kit – the 70s style white with red and black diagonal stripes – is retained, but with a twist. Instead of being paired with the black shorts and socks it was worn with in 09-10, this time round it will be worn with the home kits all-white shorts and a newly designed pair of white socks that feature single red and black hoops to correspond with the jersey motif. Although the shirt is undoubtedly a classic and the new socks and pretty smart, I'd like to have seen this still worn with its earlier black shorts. Still, you can't grumble, any shirt (especially one as good as this) being retained for two seasons is something to celebrate!