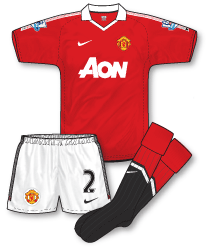 For many, the launch of a new Manchester United kit is one of the most eagerly awaited events in the football kit calendar. This season once again there are two new Nike kits to get United fans excited (with last year's black and blue affair relegated to third choice). Plus of course this season we have to get used to a new sponsor, Aon, on the Red Devils kit.
Retro influence can be seen once again as this time for the home shirt Nike look back to the early 80s adidas outfits (not the late 70s Admiral ones as so many lazy newspapers seem determined to make us think) with the giveaway clues being the old-fashioned collar and taping/trim down each sleeve. My initial opinion was favourable but on seeing the strip in action on TV and looking at a shirt close up my enthusiasm has waned slightly. The collar seems very big (especially at the back) and very flappy and whilst I think the white trim (complete with delicate black and red markings – and devil motif) is smart the shirt does have a slightly cheap feel about it for some reason. Still its great to see plenty of white back on the United shirt rather than a simply red (no pun intened) and black ensemble.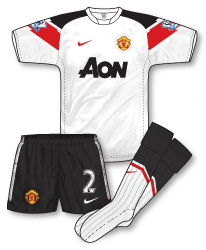 The away has ruffled a few feathers simply as it breaks from a safe and comfortable design with dynamic red and black flashes on each sleeve (zig zag flashes seem to be Nike's signature 2010-11 design element). The shorts and socks are sensibly designed to be interchanged with the home kit (a thumbs up from me). Its a brave design that I can understand would be unpopular with some of the Old Trafford faithful but for me, with its predominantly white colour scheme splashed with ample doses of red and black, screams 'Manchester United'.