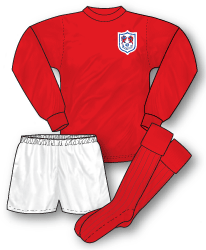 This Millwall shirt, a standard late-60s long sleeved crew neck, found fame not only thanks to Millwall's "Class of '71", but also by its association with Derby County. It was April 1969, Brian Clough's white-clad side had just clinched the Division 2 title and were due at The Den. The Lions' players, whose home strip was also white at that time, lined up at the tunnel and sportingly gave the Derby team a guard of honour as they ran on to the pitch wearing…Millwall's red away kit. A cock up by the Derby kit man (possibly still thinking the Lions played in blue) meant he hadn't packed the Rams' change strip. To make matters worse, the mistake was immortalised in playgrounds throughout the land as the photographer for a football card series was at the ground that day to capture player mugshots. Knowing his insistence on his players' immaculate presentation at all times you can bet Cloughie was seething. It wasn't all bad for Derby though – they beat Millwall 1–0.
Worn in: Away wins at Bolton (4–0) and Preston (1–0) – both also in the 1968–69 campaign.
Worn by: Eamonn Dunphy, Derek Possee, Harry Cripps
For more on Millwall's kits from the 1960s, 1970s & 1980s pick up the latest edition of Backpass magazine – the leading retro football mag – on sale now!!