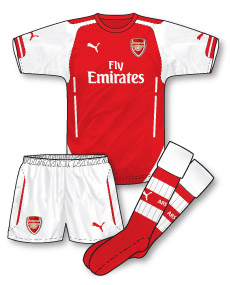 When a club changes its kit supplier after a long time with a single previous company it can often also bring a change in fortune – as if the arrival of this partner encourages everyone to raise their game and impress them. The most notable example of this was the arrival of Umbro at Old Trafford in 1992 after Manchester United had spent 12 years being kitted out by adidas with out a sniff of the League title. First season with Umbro and the championship (the inaugural Premier League campaign of course) was theirs.
So over at The Emirates, after an incredible 20 years, Arsenal's long-term technical suppliers Nike have been replaced by Puma after months of speculation as to who would take over the deal to supply the famous red shirts/white sleeves combo.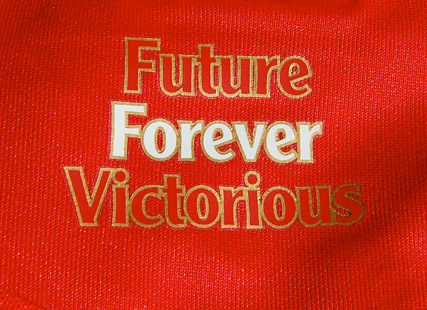 Clearly a new kit supplier is out to make an impact and Puma have launched their new Arsenal 'trilogy of kits' with great (and no doubt expensive) aplomb thanks in part to a live video projection over the Thames narrated by Arsene Wenger. The focus was on 'the future' (which forms part of the club's 'Future, Forever, Victorious' mantra, that, when you think about it doesn't really mean anything) although most Arsenal fans are more concerned about the present and when Wenger is going to deliver a PL title than the indefinable future!
So, is the home kit any good? Simply, yes. For me it ticks the main design requirement of a kit (other than of course enabling people to tell two teams apart on the pitch) in that it manages to be both traditional and contemporary simultaneously.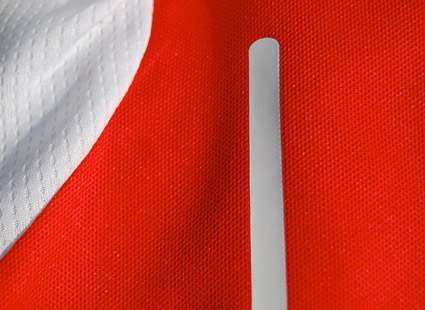 First thing that's noticable is how bright the colour is – no muted shades here, this is bold, in-your-face red – and it looks magnificent. Its also incredibly lightweight. Puma have not shied away from tackling head on the famous white sleeves and have given them an almost raglan sleeve cut with thin white panels that extend to the minimalist crew neck. These panels give the sleeves extra emphasis and create a distinctive design that moves away from Nike's previous rather 'safe' and ultra-traditional white sleeves. Breathable fabric panels feature under each sleeve and continue for a little way down each side onto thin white panels that stretch down the back of the shirt towards the hem. These panels spread out to form a white curve that arcs round to the front. The mysterious sequence of broken white bars on either side of the front of the shirt (as seen on many of Puma's World Cup kits) are also present. Quite what these do or signify is beyond me!

The Puma logo appears on both sleeves above a little red trim and on the reverse of the jersey just below the neck, there is a thin sequence of colours that seem to introduce Puma's colour palette for the club this season.
The shorts are relatively sober white but the socks reintroduce a superb red and white hooped design which co-ordinates perfectly with the kit. I am sucker for hooped socks and they always seem to suit an Arsenal strip.
Puma have pitched this just right in my view – and I love the care and attention to detail they seem to have put in to this kit. Its going to be odd not seeing Nike's tick on the Arsenal strip though and it remains to be seen whether this change in supplier will build on last season's FA Cup success and also bring the change in fortune that Gooners are hoping for.