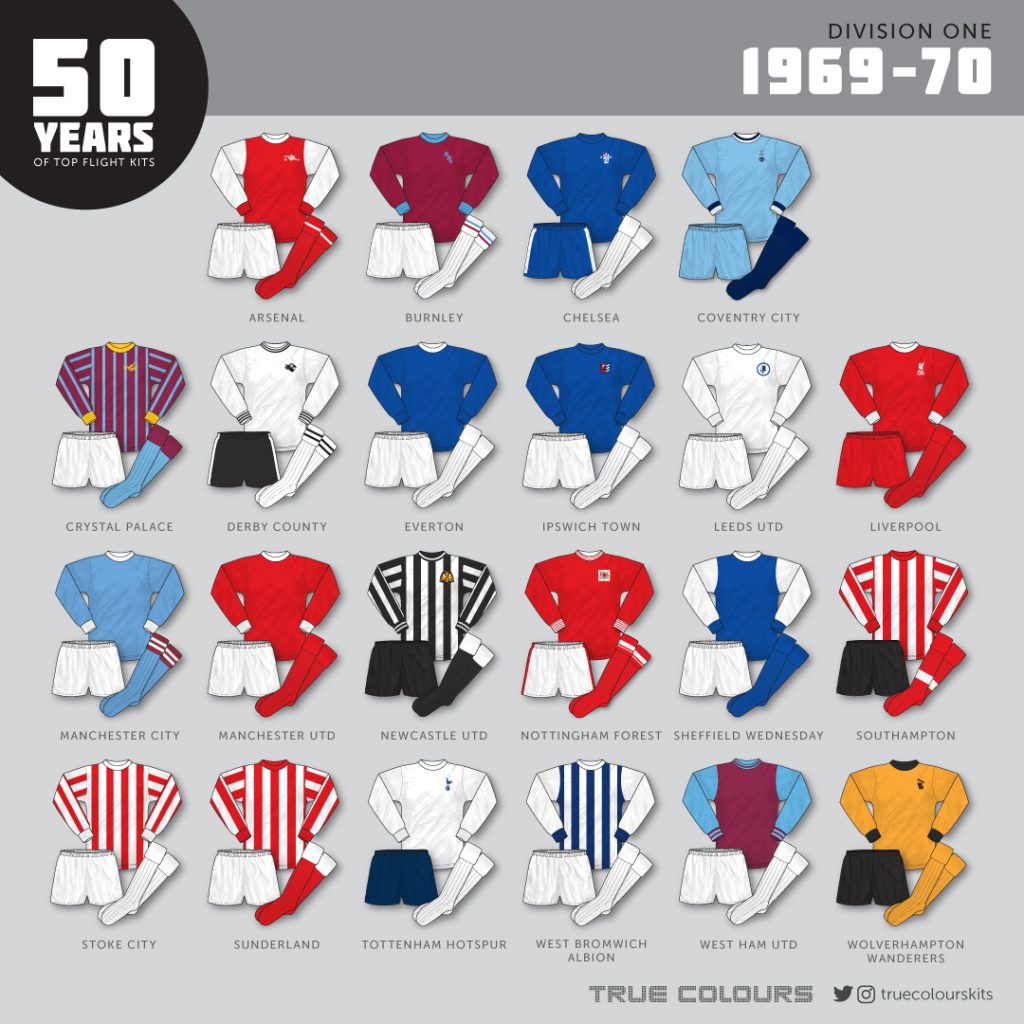 It's not only Umbro who have a big birthday in 2019…yours truly hits the big 50 this August and I thought it might be a good excuse to take a look back over the past 50 years of top flight English kits.
So without further ado, let's kick off at the beginning – the 1969-70 season.
The designs followed the basic trend established in the 60s; namely predominantly long sleeved jerseys topped with round crew necks. Although self-coloured necks/cuffs were still popular with lower league clubs, it's interesting to note that apart from Chelsea, Ipswich and Spurs most sides opted for contrasting trim. Multi-striped necks had gone slightly out of fashion by this point with only Derby and West Ham in Division 1 still sporting the design (although Newcastle and Coventry incorporated more modest single stripe trim).
Other notable strips included Crystal Palace who introduced yellow as their primary trim colour to their candy-striped shirt for the first time and Burnley who ditched their familiar sky blue sleeves and instead went for a suave all-claret number with the merest of blue trim. Ipswich also began to introduce blue first choice socks this season.
Badges were still relatively rare on team shirts with only a handful of clubs deciding to feature them. Those that did, varied from clunky, sewn-on patches as seen with Nottingham Forest to elegant italic monograms as favoured by Burnley.
This period marks the end of the relative simplicity of 1960s' designs with only a few teams featuring any decorative embellishment or trim (even on the socks) before the more flamboyant 70s took hold…you really get a sense, looking at these kits, of the calm before the stormand how football apparel was about to change and develop more sophisticated leanings.

On the pitch Everton topped the 22-team division at the end of the campaign, leading second place Leeds by nine points. Sunderland and Sheffield Wednesday were both relegated. Derby and Crystal Palace were the newly promoted sides this year with the Rams securing an impressive top 5 finish under their enigmatic manager Brian Clough.